June 1, 2019 – Starts at TRC Corporate Offices – 200 Dunham Avenue, Jamestown
The second annual Shake, Rumble & Roll event raises awareness and funds for TBI (traumatic brain injury) PTSD (post traumatic stress disorder) and other behavioral issues programs and services.
Shake, Rumble & Roll begins at The Resource Center at 200 Dunham Avenue. The format of this ride will include 7 additional stops where drivers and riders will be drawing cards to create the best 3 and 5 card poker hands. All grand prizes will be a part of the awards celebration at our grand finale stop at The Sunset Bay Beach Club in Silver Creek, NY.
The ride costs $20 for a driver and $20 for a rider and includes a commemorative shirt for each paid participant, prizes and grand finale party!
Ride Day Schedule
8am-9:55am – Coffee and donuts
Check in AND FIRST DRAW at the Administrative Offices of The Resource Center, 200 Dunham Avenue, Jamestown New York 14701 (the former Celoron School)
9:40am –  Bike Blessing
10:00am-11am – Scenic journey begins around beautiful Chautauqua and Cattaraugus County. Flight times will be decided the morning of the event.
The ride is approximately 90 miles long.
2:30pm-5:30pm – The Grand Finale Celebration – The Sunset Bay Beach Club – Silver Creek, NY
Awards will be presented at 4pm and you must be present to win.
$500 FOR BEST 5 CARD POKER HAND
$300 FOR BEST 3 CARD POKER HAND
Supporting the inaugural Shake, Rumble & Roll is as easy as riding a bike. This event has been created in a strong effort to support the services and programs for people who have suffered from Traumatic Brain Injury, PTSD, and all of the behaviors and challenges associated with those situations.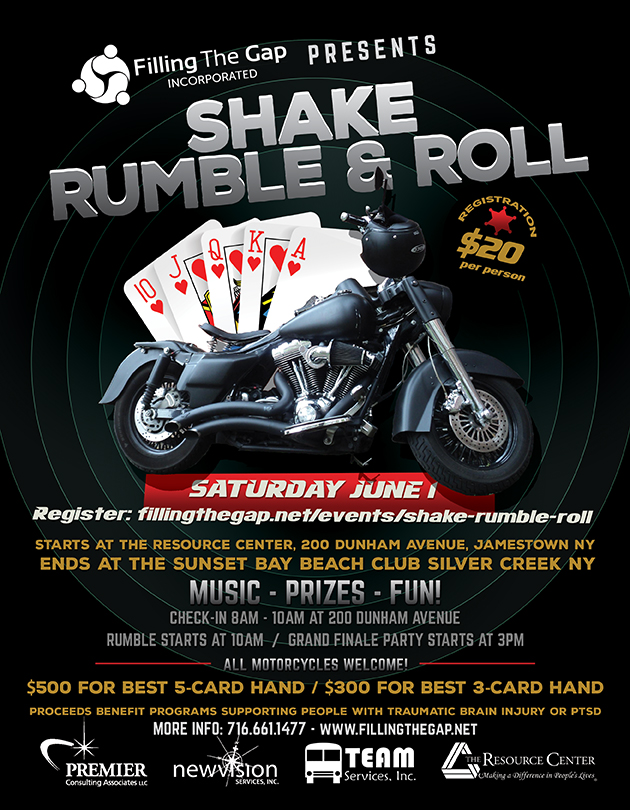 Online Registration is Now Closed.  You can still register the morning of the event.  Kickstands up!