Family organizing their own Step Up for Autism walk (from last years virtual event.  Stay tuned for more information about Dory's next event!)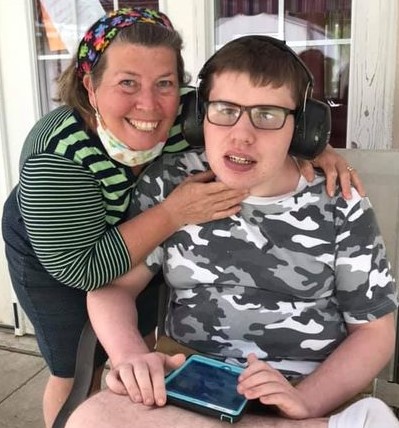 Every September, Dory Matwijkow and her family and friends usually travel from their home in Grand Island to take part in our Step Up for Autism event. They call themselves Austin's Angels in honor of Dory's son Austin, who is on the autism spectrum and lives in a home operated by The Resource Center.
Dory and her family and friends take part in the 1.5-mile walk and raise money for the event. And Dory, an accomplished pastry chef, donates some homemade items for the sweets auction. One of her items has raised the most money each of the past two years in the sweets auction, with last year's Reese's cup cheesecake drawing a winning bid of $200.
To say Dory is invested in Step Up for Autism would be an understatement. So when the pandemic caused organizers to cancel this year's in-person Step Up for Autism and replace it with a virtual walk that people could do on their own, Dory was disappointed. But she wasn't about to let COVID stop her from supporting the event. On August 5, she posted on Facebook that since the traditional Step Up for Autism walk was canceled, she was going to organize her own walk, and she asked her Facebook friends if anyone was interested in attending.
The response was overwhelming, with 70 people commenting in support of her idea and offering to help.
On Sunday, September 27, Dory and her now expanded band of Austin's Angels will conduct their own version of the Step Up for Autism celebration. Her walk will take place in an Erie County park, though Dory is reluctant to publicly name the location out of concern other well-wishers will turn out for the event and push her attendance above the maximum threshold allowed by New York State during the pandemic.
In addition to the walk, there will be gift baskets and, not surprisingly, a bake sale. Dory is hoping to raise $5,000 from the event. Since we can't encourage people to take part in Dory's walk, we're asking people to help Dory reach her fund-raising goal by making a donation. You can use the form below, or you can mail your donation (made payable to "Filling the Gap/Dory's Walk") to: Filling the Gap, Inc., 92 Fairmount Avenue, Jamestown, NY 14701. Money raised through Step Up for Autism supports The Resource Center's SUCCESS Program, which teaches socialization skills to youths on the autism spectrum.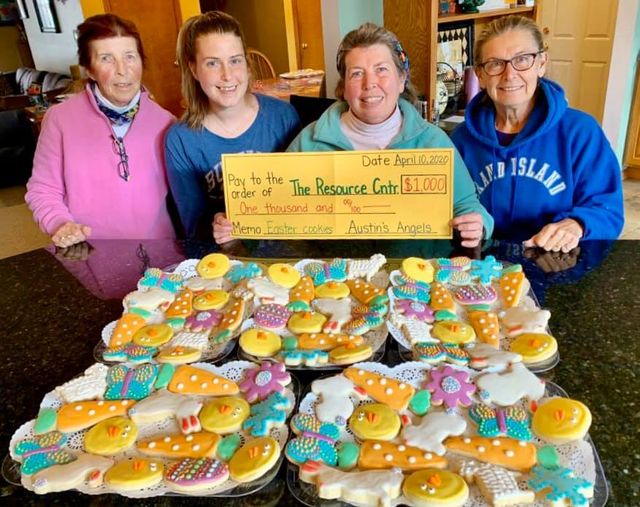 You also can join Dory's walk in spirit by signing up to do your own virtual walk. Click here to register (coming soon!).
The creation of the autism walk is just Dory's latest effort to give back and support others. For many years she and her family have participated in The Summit Center's Autism Walk. And last fall she started baking sweets to raise money for Austin's Angels, and this spring she branched out to also bake dog biscuits. Her treats (for humans and canines) have been popular, allowing her to donate the proceeds. In April she donated $1,000 to The Resource Center in memory of her father, Glenn Smith, who had died the previous month.
We thank Dory Matwijkow and her supporters for "stepping up" and finding a way to continue the tradition of Step Up for Autism in the face of the pandemic!