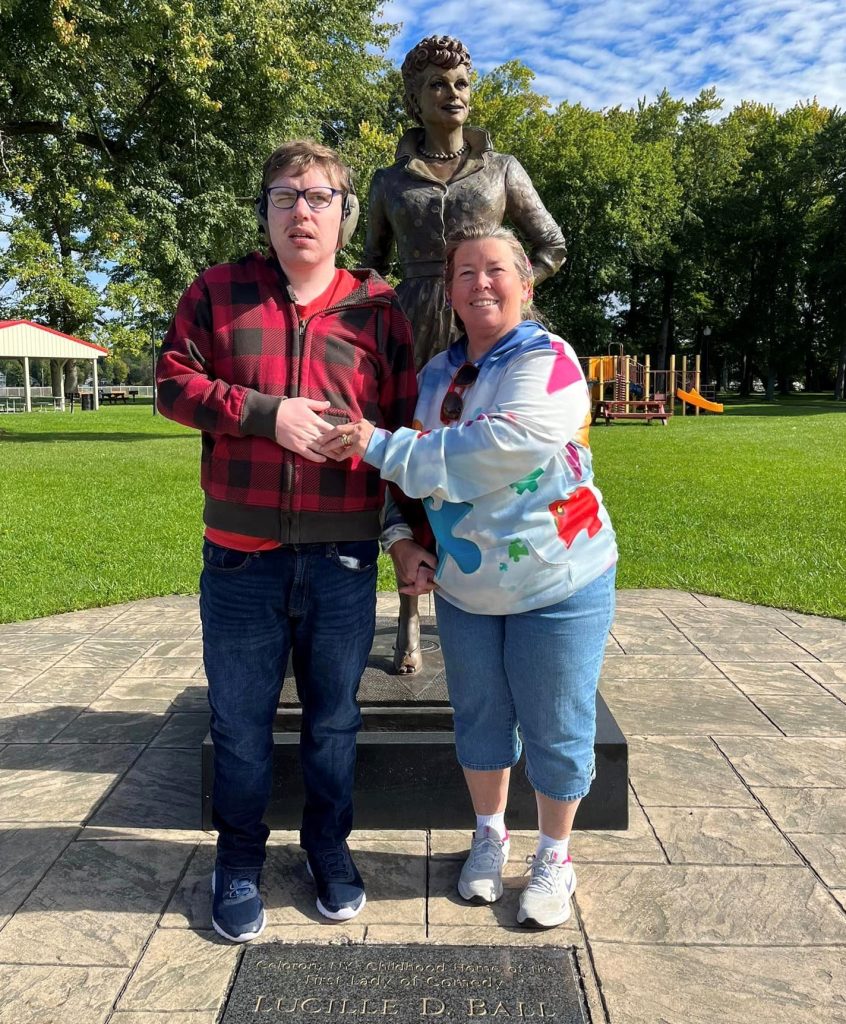 The success of her first two efforts has inspired Dory Matwijkow to again organize a fund-raising walk to support people with autism in Chautauqua County, and she invites everyone to join her.
Dory will hold her third annual Step Up for Autism walk Saturday, October 8, in Beaver Island State Park on Grand Island.  The event begins at 11:00, with the walk scheduled to start at noon.  There also will be a basket raffle with many awesome prizes, as well as a bake sale featuring items made by Dory, who is a professional pastry chef.
Dory is organizing the event because of her son, Austin.  Austin is on the autism spectrum and lives in a home in Jamestown operated by The Resource Center.  Each September, The Resource Center typically hosts its own Step Up for Autism event, and Dory and her family and friends make the long drive to Jamestown to take part.  The group calls themselves "Austin's Angels."
When Dory learned in August 2020 that the Step Up for Autism event at The Resource Center would be canceled because of the pandemic, she decided to organize her own walk to raise money for TRC and Filling the Gap, Inc., a Jamestown-based, not-for-profit organization that that works with The Resource Center to improve the lives of people with disabilities and other socioeconomic challenges.
Dory's first Step Up for Autism event was held September 27, 2020.  Though she had to limit the number of participants because of COVID restrictions on people gathering together, her event raised $10,000.  Dory was overwhelmed by the support she received for her event.  Because it went so well, she decided to hold another walk last year.  That event also raised $10,000.
People are invited to take part in Dory's Step Up for Autism walk Saturday, or they can just come for the bake sake and basket raffle.  The registration fee for the walk is $25, and registrants will receive a 2022 Step Up for Autism T-shirt.
Dory has again set a goal of raised $10,000.  We encourage people to help her reach that target by making a donation.  You can complete the form below, or you can mail l a check (made payable to "Filling the Gap/Dory's Walk") to Filling the Gap, Inc., 92 Fairmount Avenue, Jamestown, NY 14701.  Or they can donate to Dory's Venmo account, which is @Dory-Matwijkow.  All donations, as well as the money raised at her Step Up for Autism event, will be given to Filling the Gap to support the services The Resource Center offers to people on the autism spectrum.
The creation of her own autism walk is just one of the ways Dory supports others.  Three years ago, she started baking sweets to raise money, and the following year she branched out to also bake dog biscuits.  Her treats (for humans and canines) have been popular, allowing her to donate thousands of dollars to The Resource Center and Filling the Gap.
Officials at The Resource Center and Filling the Gap are grateful to Dory.
"I just want to say how much we appreciate Dory's efforts and support," said Cindy Hitchcock, Filling the Gap's Vice President.  "With providing only a virtual setting for our own Step Up for Autism walk in 2020 and '21, we were not able to capitalize on the money typically realized through our basket raffle or sweets auction.  Her large donations allowed Filling the Gap to maintain the level of grant funding offered to The Resource Center to assist with their programs.  We can't thank Dory enough for all of her hard work."
"We are honored that Dory has stepped up to assist Filling the Gap and The Resource Center with their efforts to support the programs and services available to people who are on the autism spectrum," said Victoria Trass Bardo, Development and Events Manager.  "The last few years have been difficult for everyone, but Dory with all her enthusiasm was full speed ahead creating her very own version of our event.  We are ever grateful to Dory, her friends and family for supporting TRC and FTG as we strive to make a difference in the lives of everyone we support."