The 11th annual Step Up for Autism will take place, but with a few changes because of the pandemic.
The usual 1.5-mile awareness walk and related activities at The Resource Center's Dunham Avenue building in Celoron will not be held this year.  Instead, people are encouraged to do a virtual walk on their own.  And because it's a virtual event, people who prefer not to walk can choose to do another activity that interests them, such as running, cycling or kayaking.  People can do their virtual activity at any time.  Online registration will close September 30.
Registration is $20 if using a paper form or $22.50 if registering online.  Click here to find both the online registration form and a printable form.  Paid registrants will receive a 2020 Step Up for Autism T-shirt.
Shirts also can be bought for $10 (sizes Extra Large or smaller) or $15 (2X or larger).  Click here to order.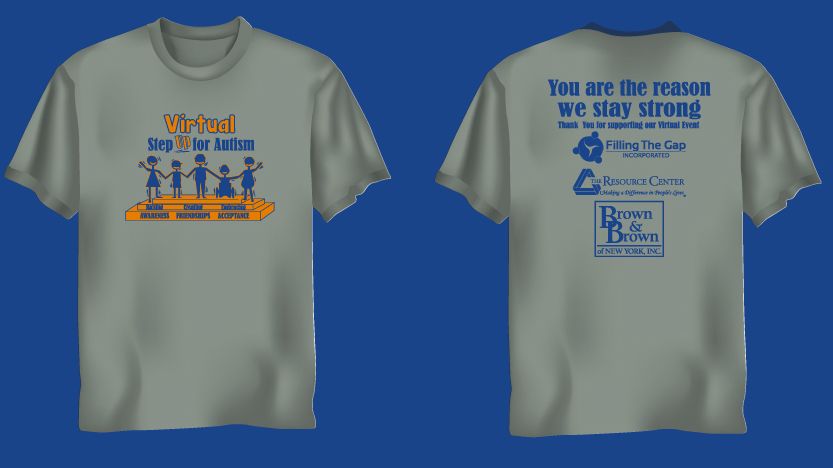 While we won't be holding the popular Sweets Auction this year, we will have an online Basket Auction.  Details will be announced soon on our Facebook page and at www.fillingthegap.net/events/step-up-for-autism.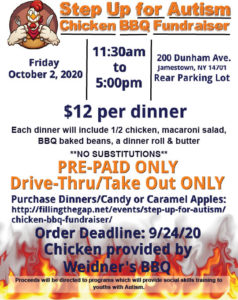 In place of the Sweets Auction, we are offering a tasty alternative.  A chicken barbecue prepared by Weidner BBQ is set for Friday, October 2, in the rear parking lot at TRC's Dunham Avenue building.  Meals (consisting of chicken, baked beans, macaroni salad, roll, and butter) cost $12.  In addition, Candy apples can be ordered for $3 each, and caramel apples are $5 apiece.  There will not be any on-site sales the day of the event; food must be purchased in advance.  The deadline to order is September 24.  Click here to order.
Step Up for Autism is a celebration of people on the autism spectrum.  The event is put on by Filling the Gap, Inc., and The Resource Center.  All money raised through Step Up for Autism will stay in Chautauqua County to support people who have autism and other developmental disabilities.  Most of the proceeds support The Resource Center's SUCCESS program, which teaches socialization skills to children and young adults on the spectrum.
If you'd like to make a donation in support of the 2020 Step Up for Autism, send a check to Filling the Gap, 92 Fairmount Avenue, Jamestown, NY, 14701, or click here to make an online donation.
For more information, phone Victoria Trass Bardo, Development and Events Manager, at 716-661-1477, or email her at vicky.bardo@resourcecenter.org.